Win More B2B Technical Sales
Our B2B technical sales service will help you win more business by finding the right opportunities and seizing them.
Sound Familiar?
You have an established business where most of the sales are coming from past contacts and referrals, and you have reached a plateau: growth is slowing, your network is becoming exhausted, fewer new leads are entering your pipeline, a significant amount of your revenue is coming from a few clients, etc.
You want to grow your business, and you know that the solution is through sales. However, you're struggling to do it yourself while taking care of the rest of your company, so you are not doing properly, and results are not showing. Too many channels to explore, too many unknowns, and not enough time and resources, "Should I send cold emails or focus on calls?", "Should I develop my LinkedIn?", "Are trade shows good for my company?" and many other doubts!
You have considered hiring an in-house sales team, but it is a big financial and time commitment, and you would not be able to guide them on what works because you do not have the know-how and experience yet. On top of this, your budget for sales and growth is not great; you have not just raised a million in a venture capital round!
Imagine if you had a team of B2B business development and sales experts with extensive experience helping technological companies succeed, to analyze your company offering, discover what approaches work best for your business, and implement and develop a sales pipeline that will nurture your growth from years to come while leveraging the most advanced cloud and artificial intelligence technologies.
That is what we do at BizCusp, and we do it through a packaged service approach that allows you to grow at your own pace, minimizing risks and maximizing your return on investment.
We help technology companies grow through a B2B business development and sales service that wins.

B2B Tech Sales Made Easy
Discover what works best in sales for your company

Take advantage of world-class know-how and advanced tools

Minimize risk and maximize ROI
How it Works
Every year, thousands of technology companies try to win business in different markets, only a few succeed. Their secret? A curated pipeline of opportunities matching their products, services, and capabilities, developed specifically for their business' particularities and managed by top of the game experts that find what works best in each situation.
Step 1: We analyze your company and plan for success
Our B2B technology business development experts will study your company's value proposition, services, products, expertise, target market, resources, etc., and will create your custom B2B technical sales strategy. This process usually requires two iterations, where we discuss the approach with you and agree on the plan.
Step 2: We set up your pipeline using your preferred tools
Our team will set up your B2B sales pipeline management system, ensuring that our done-for-you service is integrated into your operations hassle-free by using the tools you already use. No matter what CRM, leads tracker, or other sales tool you are using, we master them all. If you don't have a proper sales system in place, don't worry! We'll set it up for you!
Step 3 - We develop and manage your B2B sales agilely
Our experts will find what works best for your company and market. We will develop the sales channels that make more sense for you and continuously evaluate their performance, implementing improvement actions, and ensuring you invest in the sales opportunities that will maximize your return. Although sales is a transferable process, every company is different, so we will discover what works for you and grow it!
Step 4 - We help you win
Excellent opportunities are pointless if you can't seize them; that is why we are committed to empowering you with tools, training, and resources to help you win more sales and maximize your return on investment.
SW and IT

Telecommunications

Professional Services
Aerospace

Drones & UAVs

Engineering & Construction
Biotechnology

Healthcare

Research & Development
21st Century Technical Sales Management
Our service approach will help your company win more technical B2B sales while saving you time and resources. After having worked for dozens of customers worldwide, we have learned how to implement, develop, and manage opportunities pipelines that deliver more sales. Our team will leverage for you:
Cloud-based collaboration tools such as shared drives, management canvas applications, and team management tools, saving tons of time in communications and information sharing.
Artificial intelligence powered solutions that support the technical business development and sales process, from leads generation to capture management.
Know-how in business development for technology companies to ensure success at any stage of the growth and sales process, whether it is identifying the best opportunities, providing market analysis, or closing that must-win sale.
Unique approach to meet your needs:
Starting the right way: a pilot to discover what works best for your company
____________________
9 working weeks
Company analysis
Tech sales strategy
Pipeline system setup
Prospecting
Channel evaluation
Best sales approach
Reporting
Our most popular plan. We do everything for you, so you can focus on winning
____________________
Ongoing sales effort
Prospecting and qualifying
Leads management
Sales demos
Follow-ups
Performance monitoring
Continuous improvement
____________________
* From $999/month depending on growth target and commission approach.
The Autopilot plan plus custom ad hoc support with sales deal closing
____________________
Closing sales support
Market intelligence
Pricing analysis
Proposal management
Negotiations support
____________________
* From $1999/month depending on growth target and commission approach.
About the team
Led by Javier Escartin, a seasoned business development expert specialized in providing effective B2B growth services for companies which value proposition is based on technology, our team is composed of business analysts, enterprise sales experts, and software support engineers.
The BizCusp Team will discover what approaches work best for your business, and develop a sales pipeline that will nurture your growth from years to come. We will leverage our advanced technical sales know-how, and cloud and artificial intelligence technologies, to set up, manage, and grow your B2B technical sales pipeline for you, so you can focus on winning business.
Besides our done-for-you B2B technical sales service, we also provide on-demand support with Government and B2B proposal writing, and other business development needs: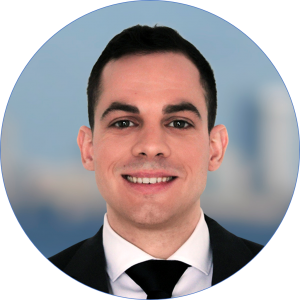 JAVIER ESCARTIN
MSc in Engineering
PMP®

Helping entrepreneurs win business worldwide
Javier has won us over $200k in small bids over 6 month period.
He brings tangible value to our business. He knows his stuff.
Brett – Founder & CEO
Drone and UAV Services Company - United States
Javier goes the extra mile and will bring value to any business development team.[…] He can make your product or service shine among the competitors for business or for government clients!
Allen – Founder & CEO
SaaS Company - Canada
Javier is an excellent professional, knowledgeable, easy to communicate, and definitely adds value to my business.[…] I highly recommend him to any company that needs to improve sales and processes.
Lu – Founder & CEO
Technical Design Agency - United States
Javier it's a very seasoned business developer, and helped us to increase our sales budget, prospecting with a different approach.
Cristiano – VP of Business Development
Telecommunications Infrastructure Company - USA and Brazil
Javi is a well-organized tech sales professional ready to take on multiple aspects of a new sales initiative.
Pete – CEO
Tech Events Production Company - United States
Javier is a very skilled business development professional. […] We have been able to win some projects together. […] I look forward to working with him in the future.
Idris – Co-founder and CEO
Systems and Software Company - Nigeria
Tell us about your business and we will contact you soon to help you win.